Automotive Technologies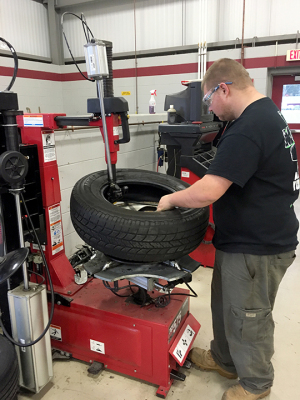 As the automotive industry continues to evolve with sophisticated electronics-based vehicles, so does the demand for highly-skilled technicians who have an understanding of all aspects and fundamentals of the modern automobile. 

In Automotive Technologies, students learn about bumper to bumper automotive systems and their repair. Using Snap-on hand tools and sophisticated diagnostic equipment such as a 4-wheel computer alignment machine and hand-held and laptop-based diagnostic scan tools, students develop professional automotive skills that they put to use working on real customer vehicles in SST's 13 bay automotive building.

The Automotive Technology program is proud to be certified by the National Automotive Technicians Education Foundation (NATEF), the educational arm of the National Institute for Automotive Service Excellence (ASE) and Automotive Youth Educational Systems (AYES). Through the AYES Program, some qualified students can receive paid internships during the summer at local automotive dealerships. 

Students in this program compete in state and national  SkillsUSA competitions that provide the opportunity to earn college scholarships and other awards.

​College credit is available through  Running Start, and many students choose to continue their education at highly-respected colleges and automotive training programs throughout the U.S.

For more information, please contact instructors Fritz Arseneau at farseneau@sau16.org, or Paul Yergeau at pyergeau@sau16.org.